"I attended Eva's prenatal yoga workshop mainly because I wanted to find out which stretches and poses would be most beneficial for me and my baby. Since my first baby was born I've had lower back issues and I've been curious as to how I could strengthen it. I also wanted to learn about ways to increase my energy as I was constantly tired throughout the day. Eva's workshop was fantastic. The Yoga class was so refreshing and energizing. Near the end, the meditation was very calming and relaxing and I felt renewed and ready to take on the rest of the day. The following day I awoke with more energy then I've had since before getting pregnant. Even my husband noticed the change in me!
Since the workshop I've been doing back stretches against the wall whenever I feel it getting tight and it's worked wonders. My energy has doubled and I'm sleeping sounder and waking refreshed.
I would recommend this workshop to all pregnant women at any stage. I'm thankful that I now have stretches that are not too difficult or strenuous and easy to perform throughout the day in the comfort of my home. I'm very grateful to Eva for all she did and continues to do. "
Miriam M., Abu Dhabi, Al Reef
"I decided to join a prenatal yoga program to stay fit during the whole pregnancy. I can say it helped me in many ways, such as sharing with other mums or mums to be feelings and thoughts about this phase. I really appreciated the benefits of yoga to both body and mind such as balance, flexibility, strength..it really helped to prepare for to the birth. Eva is a very empathic teacher, she follows the mood of the group, inspiring personal improvements, which come shortly. "
Martina B., Abu Dhabi, Al Zeina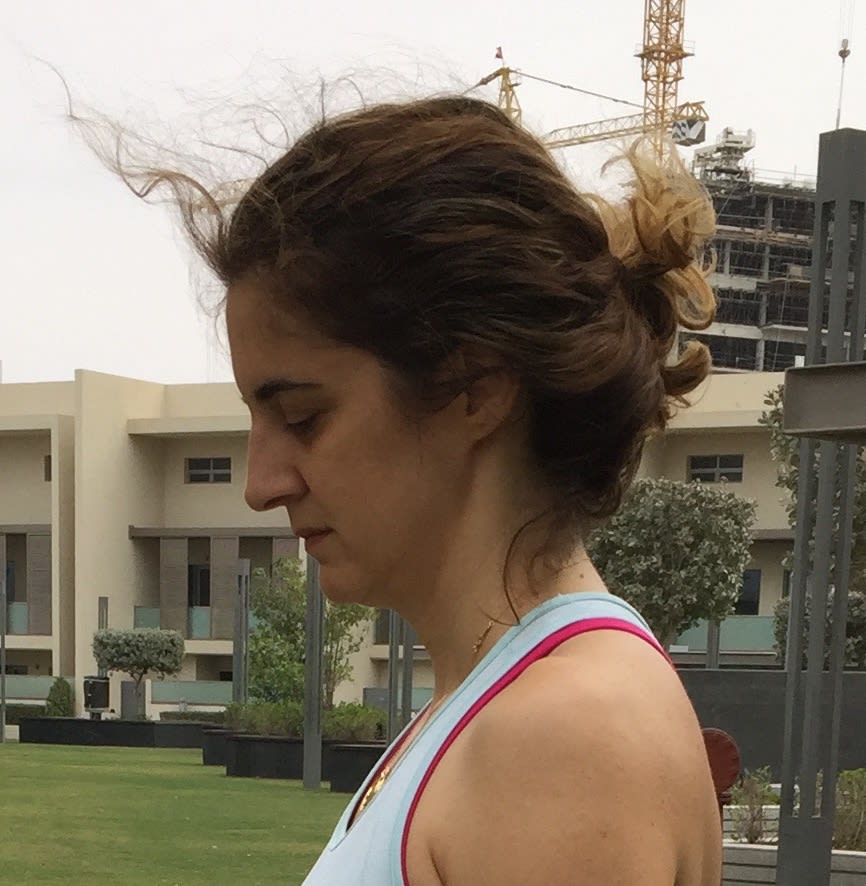 "I was feeling very weak and getting strong back pains after having my baby. My daughter was only 4-5kg but I had hard time carrying her around. I felt I was not standing straight and still had some of that late pregnancy posture where my back was arching to support my body. I felt I had lost all my core muscles and needed to build them back up to reduce the strain on my back and be able to enjoy my baby without worrying about hurting my back.
Eva was very knowledgeable about the post pregnancy changes in a woman's body, including the collapse of the pelvic floor. She was able to assess my situation and tailor an exercise program that fit my fitness level. We started off very slowly with very light movements to slowly engage pelvic floor first and the rest of the stomach without straining the other muscles that tend to compensate for the weakness of the core muscles. Eva helped me understand why I felt weak and kept getting back pains, and than worked with me step by step from learning how to breath to engaging the pelvic floor to 4 months later doing jumping jacks and all sort of other challenging strength building exercises.
Eva understood postpartum body and tailored her coaching to my situation, starting with baby steps and moving the intensity up as I was ready for it. She also understands the challenges faced by a new mother including sleepless days that may require a relaxing session vs a high intensity work-out.
After the first 2 months I felt much stronger, my energy levels were high, I was able to carry my baby despite her getting heavier and I had no more back pains.
I would describe Eva very professional and passionate about her work. She cares about the mothers is determined about helping them. I would recommend Eva to All women juggling their personal/professional/motherhood duties and looking to get back into shape after pregnancy."
Jannan, Abu Dhabi, Al Muneera
"After few months of prenatal yoga training with Eva, I really liked the way she teaches and I always felt better after her class no matter how I started. She was always following our mood and energy levels to design her class. She is professional and informative yet very friendly and flexible when needed. Highly recommended if you are looking for a good results and not so traditional yoga teacher. "
Rana, Abu Dhabi, Al Zeina
"My top three goals upon starting the health coaching program were
1. To increase my energy level and to be able to get through the day without caffeine and chocolate
2. To become fitter
3. To heal my Diastasis recti (abdominal split after birth)
Eva was able to help me to work towards these goals by changing my eating habits. She gave me new ideas about the foods and cooking, she slowly guided me to replace caffeine with other foods which gave me the same or even more energy in a healthier way. She was giving me exercises and the motivation to start doing them regularly to heal my Diastasis recti.
The biggest changes I have noticed since beginning of the program were weight loss and I started to get flatter belly; the energy level increased a lot I could feel a huge change in my life.
The biggest change came with the food. Since I started the program, I gradually changed the way of cooking which is definitely more efficient and more healthy now, it gives me the energy that I need; this is all useful and easy with my toddler as well.
Eva was is a nice person to work with, she was a role model, as she was going through similar life stages than I was struggling with. She gave me motivation and good examples and she was always able to give me new ideas for the further life changes.
I would recommend this program to every new mum who might be facing similar problems as I was facing. But maybe it's also a good idea to get in contact with Eva while you are mum to be- prevention might be helpful as well. "
Erika T., Abu Dhabi, Al Zeina
"I joined Eva's prenatal workshop because I wanted to get more familiar with my body and its boundaries during pregnancy and also to learn about safe ways to stay active and healthy throughout my pregnancy.
I learned about the exercises to fight fatigue, nutrition requirements and relaxing about everything that is in front of me in months to come.
I would recommend the workshop and generally working with Eva to every mother to be, especially the ones that are expecting for the first time because her classes make you feel confident, positive and strong while loving yourself and the bumpy, working together to be as healthy as possible."
Bojana, Abu Dhabi, Al Muneera
"Before taking the cooking classes I was struggling to find healthy recipes that all members of my family would like. The classes were a great inspiration, especially when it comes to introducing more vegetable dishes to out diet and some new ingredients such as coconut flour or miso paste. I have enjoyed the classes very much and I highly recommend it not only to busy mums, but anyone who is interested in learning healthy and quick recipes."
Katarina N., Abu Dhabi, Al Muneera
"My 2 biggest concerns during the pregnancy was if was eating right and providing him the best possible conditions for the vital growth and development) and also it was the body change and how I will manage with my body during the last months of pregnancy and during the birth (tearing, stretch marks, belly muscles, etc…)
Eva was and still is No.1 person for me whom I turn to for any advice or opinion. I trust her abilities, experience and especially the way she can comfort me and help me see that there is always a solution. She shared with me what was the best to eat in each trimester of pregnancy and with her help, I only gained 13kg in total and felt really awesome, energetic, flexible and strong. More than half of my recipes were those from her and I really enjoyed what I was eating which reflected on my well being.
Eva also introduced me to prenatal yoga which became my routine until the baby was born and I felt great! She made me realize that I can choose how I want to bring my child to this world, I can decide about my comfort during the birth.
I'd recommend her to any woman who is struggling with her own mind and body, who is either pregnant or not who doesn't know how to get to a healthy body through a healthy mind. Eva doesn't only help you to change your body but she challenges your mindset."
Veronika.K., Abu Dhabi, Al Reef
"My main goal was to loose about 15 kg. Eva guided me in a very motivational but realistic way on my journey to reach this goal. She helped me step by step to incorporate new healthy habits into my life. She provided me with plentiful of information and healthy food items at each session. As a result of this program I lost 10kg I started exercising and my skin has improved as well as my hair. I already recommended Eva to all of my friends who would like to loose some weight in a sustainable way"
T.K., Abu Dhabi, Al Muneera
"Eva's Yoga classes are very creative, didactic and complete. CREATIVE, because each class contents a variety of asanas, that makes every yoga class feel like a new journey. DIDACTIC, because through her clear and simple way of explaining things, we understand everything from the very start. COMPLETE, because besides the exercises there is place for warm -ups, breathings, relaxation and even meditation.She is also very generous with her time. Even if the one hour class is a little bit overdue, you never feel that you are pushed or that something is missing. After the first class I felt like I was not able to move never again 🙂 without feeling pain. But that was only due to my inactive muscles. Within only three sessions, I started feeling empowered, as if my mind and body were highly engaged and well-connected giving me a sensation of contentment and fulfillment. "
Elena, Abu Dhabi, Al Munnera
"Eva's yoga classes leave me feeling refreshed and totally relaxed. The yoga is hard work yet never boring or repetitive and although she pushes us, we are encouraged to stop whenever our body tells us to. My strength and stamina have improved and I feel much calmer and more motivated towards leading a healthier life. I love her style of teaching as she is cheerful yet firm and very intuitive. I highly recommend her classes! "
Sinead, Abu Dhabi, Al Muneera
"I enjoy Eva' s yoga classes because they are relaxed, informative, and lots of fun. Each pose is explained thoroughly, different ways of getting into/out of them depending on your ability with attention to anything you're concerned about. I also aprecciate the way everything is explained, names and terminology, each class being different makes it interesting, concentrating on different areas, seeing the improvement when you go back and do poses you tried at the beginning! I attend Eva's regularly beacuse each one is different, adapted to the levels of the students and because the class is small everyone gets attention which is very helpful and encourages you to get the poses right. I'm far more flexible and more aware also of improvements each week, poses you found difficult in the beginning definitely get easier and that's without a lot of self practise on my part I'm ashamed to admit!! After the class my mind is clear and whatever dramas were going on in my head before I went aren't as important or as dramatic afterwards. I would recommend the class to literally everyone/anyone. Evi caters to all levels, classes are small so everyone gets attention, showed where/how they are going wrong with poses, getting into/out of poses safely, adapting them to your individual capabilities, taking into consideration any areas you might want or need help."
Mary, Abu Dhabi, Al Bandar
"Finally I have found a teacher, who makes sense of, and explains Yoga so well. While attending Eva's classes, I have learned how to breathe, how it should feel with each move , and what each position does to my body and well being…..and that's why I attend Eva's classes religiously every week, couple of times. Since I've started my lessons, my flexibility has improved dramatically, and I would say, that I am a fit person. OK, I am not a PRO, but I am way better than what I was when I've started. And to top it off, it helps me to improve in sports, that I do on regular basis, where not only strength, endurance, but also flexibility is necessary…..and that was just the physical side. My concentration level is higher, I sleep even better, and to top it all off, I feel somehow more positive.Would I recommend Eva's lessons to friends? Of course, some of them are regulars already ……. and they enjoy it as much as I do.''
Marie, Abu Dhabi, Al Bandar